LibraryBalloonShow.com is where librarians can find a professional, family-friendly and unique show that generates foot traffic and books being checkout. Our goal is to provide the highest quality entertainment to libraries resulting in a great library experience.
Put a Twist of Fun into your reading program.
Their imaginations soar when children watch an ordinary balloon transform into an extraordinary animal, shape or figure.  Just as a good book captivates the minds of its readers, Dale's balloon show uses art and creativity to capture their imagination.
Showing children the magic of creativity is the deepest promise of a library and Magical Balloon-dude Dale.
Twist 

balloon fun into this year's program

The comedy, choreography, and interactivity of the Magic Balloon-dude's library show sends kids into creativity fun overdrive – which, after all, is the goal of a day at the library!
The library silence is broken with children laughing as they sit, watching Dale's co-star's reaction as Dale inflates a balloon through their head. Making for a priceless moment.
Parents appreciate going to the library and interacting with creative people like Dale. The library and Dale create an experience that makes going to the library fun and educational.
"I just wanted to say thank you again for a FABULOUS program! Everyone is still raving about you, and all are still enjoying the balloons you left for us! – Wendy Asbridge Mokena Public Library
 45-Minute Show
Audience Participation
Choreographed Balloon Twisting to Music
Sound System, Lighting & Professional Backdrop
Two 5' Balloon Sculptures Created on Stage
Poster & Write-up to Promote the Show
Photo opportunity too!
Twist 

Of Comedy, Silliness, and Audience Participation
The Art of Inflation interjects fun into an event, and its flexibility allows librarians to use this show for special events that require a great family-friendly show that gets an audience laughing.
Lets make your patrons the star of the show!

Twisted silliness and creativity is not just left to the kids
– parents are involved too!
I Want A Quote Today –  Call (708) 744-0234
 Library Schedule
"Lots of smiles" Denise Farrugia, St Charles Public Library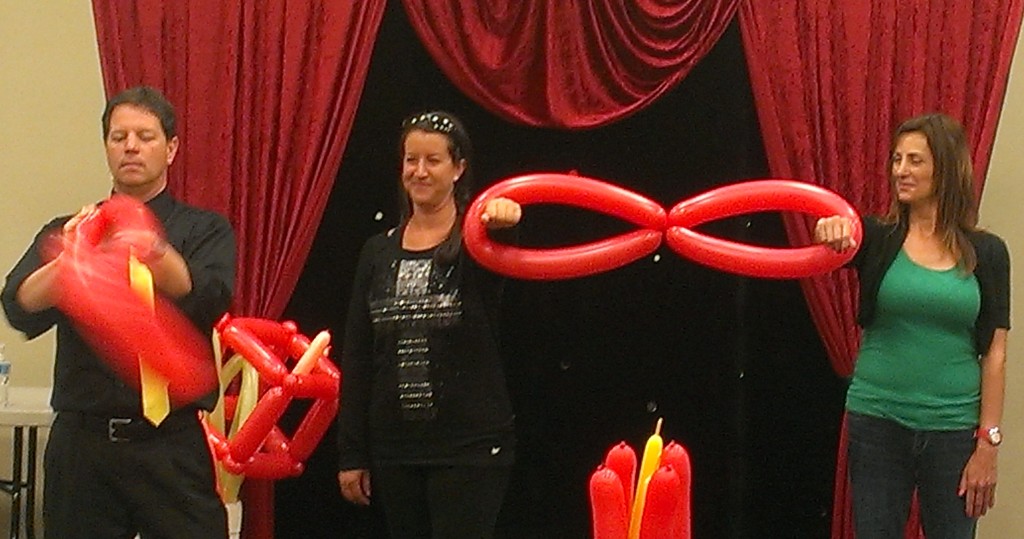 Bring the House Lights Down
Turn the house lights off and hear the oohs and aahs from the audience as glowing balloons twirl about the room.
Black light works in most environments.  It only requires the lowering of lights, but the darker you can make it, the more dramatic the effect for the audience.
It Is All Done For You
This is a completely self-contained, all ages show. Sound system, backdrop, table, balloons, etc. are included.  All you need to do is provide the audience. The program is 45-minutes long and is complete (There are no extra fees for travel, etc). HOWEVER, if you schedule two or more performances the fee drops.  The programs do not have to be at the same location, merely coordinated with another library on the same day.
Networking Reduces Your Cost
I encourage you to send out a message on your listserv to coordinate with other libraries to get the fees reduced.
Pencil Me In!
With Dale performing hundreds of shows each year and with the limited amount of dates available in the library program, it is important that you reserve your date ASAP. Email or call (708) 744-0234 to secure a date. There is no obligation to hold the date, just call and place a "hold" on the date until you can confirm it.